Italy remain on winning track as star players strengthen team
With Michieletto, Lavia, Balaso and Anzani all on the court, the European champions defeat Germany
Publicado 02:56, 22 jun 2022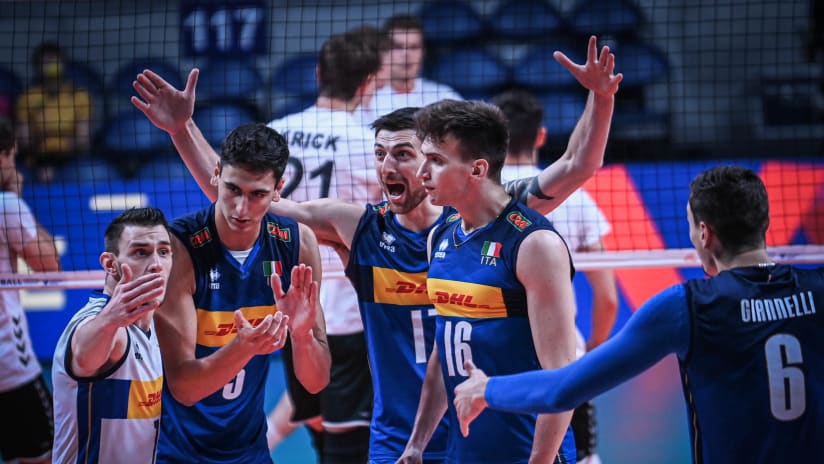 A mix of new talent and experience bore fruit in their first test of the week as the Italians started with a sweep (25-16, 25-21, 25-22) of Germany to secure their fourth win in five matches in this year's edition of the tournament.
"It was important to start the week by winning, especially after such a long trip," Italian captain and setter Simone Gianelli said. "I'm happy that we managed to play well, but we can do better and that's what we'll focus on for the next matches. Germany are a very good team and they played really well. Any time we play them, it's a difficult match."
Despite the presence of outside hitters Alessandro Michieletto and Daniele Lavia and middle blocker Simone Anzani in the starting lineup, it was Yuri Romano who carried the team's offensive load against the Germans. The 24-year-old, left-handed opposite tallied a team-high 13 points, with ten kills, one block and two aces.
One of Romano's key plays in the match was up against the German block to score the first Italian point in the first set. A few plays later, he hit a quick set behind Gianelli to score 11-6.
Yuri Romanò Top Plays vs. Germany
Romano produced a fantastic block at 3-2 in the second set, when he stopped Moritz Reichert at the net. Later, he used the hands of the German blockers again to win the second set 25-21 for his team. In the third set, he took advantage of having a single blocker in front of him after a fantastic one-handed set from Simone Gianelli to swing hard and help Italy build a 3-0 lead after one of the most impressive rallies of the match.
Middle blocker Gianluca Galassi came next with 11 points (seven kills, four blocks), followed by Lavia and Anzani, who produced nine points each, and Michieletto, who left the court with eight to his name. Libero Fabio Balaso led the team in digs (six) and passes (four), strengthening the Italian defensive system in his first VNL appearance.
German opposite Linus Weber was the match's top scorer with 14 points, all of which were produced in kills.
The Italians will take on Japan next on Friday, at 19.00 local time (11.00 GMT).